Making the Case for Change to Support Mobile Learners
Creating change that matters for learners and Canadian post-secondary institutions
A national student data exchange network, a one-stop environment to support official post-secondary academic document exchange, supports mobile learners and advances social mobility, internationalization, lifelong learning, and labour mobility and workforce preparedness.

Project's Commitment to Social Mobility
Social mobility
Creating service improvements that enhance student access into, between, and beyond Canadian post-secondary studies is a key aspiration of the national data exchange project. Social mobility involves supporting learners and their families moving within or between social strata in a society.[1] A study by the Organization for Economic Cooperation and Development (OECD) found that a "…lack of social mobility can hurt the foundations of economic growth" and that "social mobility directly influences the feeling that one's voice counts at the country level".[2]
Removing barriers to and enhancing the seamless sharing of secure student academic credentials into, between, and beyond Canadian post-secondary institutions directly contributes to facilitating greater social mobility, diversity, social equity, and future economic opportunities.
Learner mobility
Learner mobility and social mobility are interrelated. A growing number of learners choose to transfer between post-secondary institutions within provinces/territories, across Canada, or internationally in pursuit of their educational, social and professional goals. Learner mobility is also evident in the growing number of international students coming to study at Canadian post-secondary institutions. Canada's colleges, institutes and universities are increasingly collaborating to offer students a significant range of pathways to support their education and career goals.[3] One in 10 university students cross a provincial/territory border to complete their studies.[4]



Supporting all these learners with more seamless electronic credential exchange represents an important next step to enhance supports and remove barriers to access.

The Council of Ministers of Education, Canada (CMEC) focuses on priorities that enhance student mobility, supports best practices related to the assessment and recognition of qualifications, and ensures higher education meets Canada's obligations under the Lisbon Recognition Convention through the support of the Canadian Information Centre for International Credentials (CICIC).[5] The federal government ratified this Convention in 2018, ensuring a commitment to transparency and quality assured practices as mechanisms to enhance mobility.[6] Increasing student mobility is also a priority for both Universities Canada and Colleges and Institutes Canada.[7] Both groups have formally endorsed the Canadian national data exchange project, which seeks to create seamless connectivity between post-secondary institutions and trusted international institutions and organizations to enable quality assured credential assessment and the electronic exchange of official academic documents to support learners.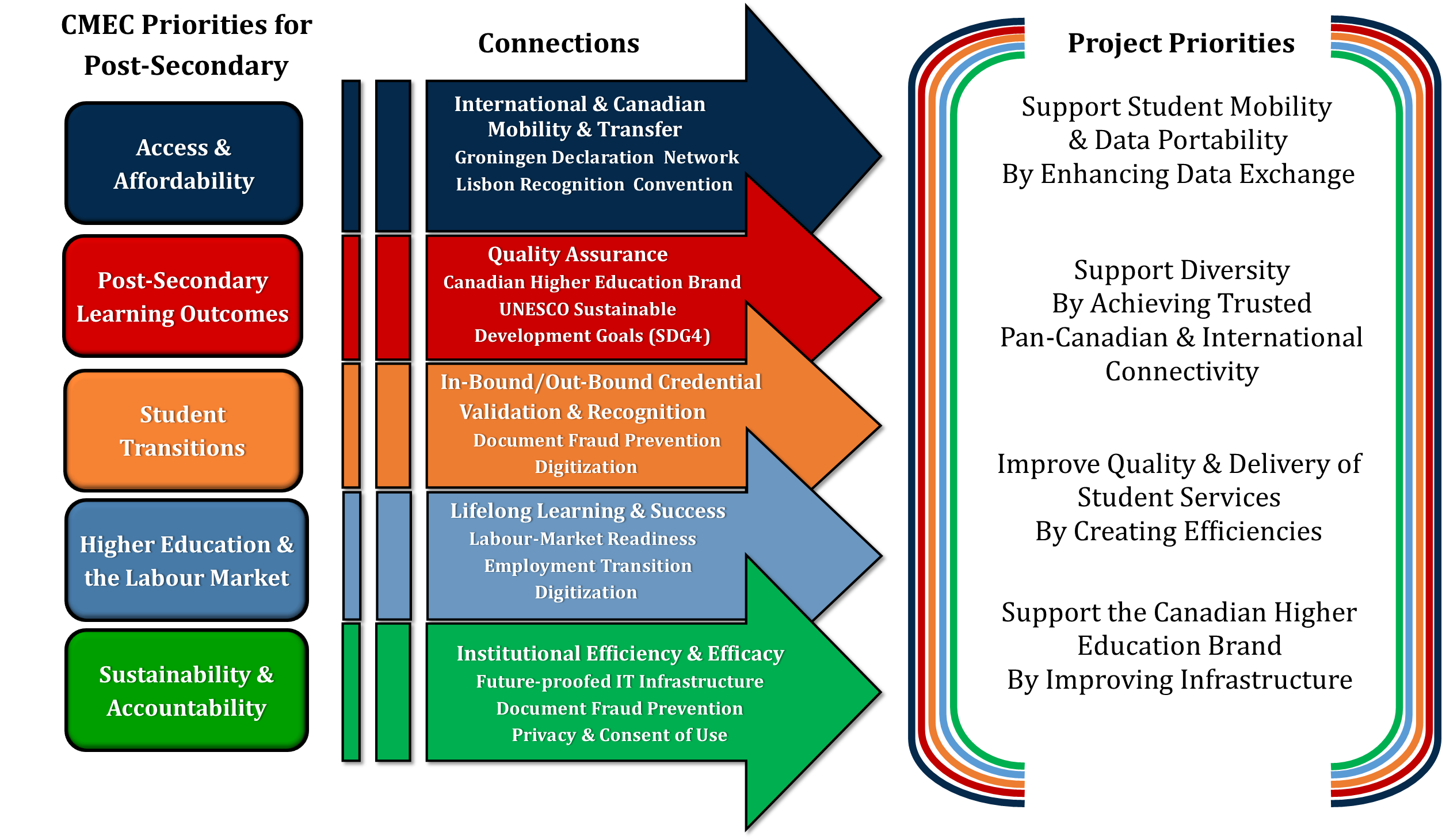 Creating a national student data exchange network, a one-stop source for Canadian post-secondary academic document exchange, completely aligns and serves the priorities of the Council of Ministers of Education, Canada, Universities Canada, and Colleges and Institutes Canada.
Canadian post-secondary institutions and our students need more capacity at the national level to advance learner mobility.
International mobility
Canadian students studying abroad need to be encouraged and supported as they grow the necessary skills and competencies to navigate the challenges in the changing workforce and the shifting global economy.[8] Establishing integrated and trusted connections with international partners for credential exchange is essential to support scalable credit recognition processes. Efficiently accessing transcripts and improving transfer credit assessment processes will help remove barriers to participation.
The 47% increase in international students studying in Canada between 2015 and 2018 is projected to continue growing.[9] Transformational credential exchange support frameworks are necessary for efficient admissions and transfer credit assessment practices. Trusted international credential repositories exist in India and China, which are the two largest source countries for international post-secondary students in Canada. Taken together, they represent over 50% of the total population studying in our schools.[10] Research conducted for ARUCC indicates the presence of similar trusted credential repositories and verification bodies in other parts of the world.
Canadian post-secondary institutions need to connect to these providers around the world to support quality assured assessment practices and to enhance speed of service for students.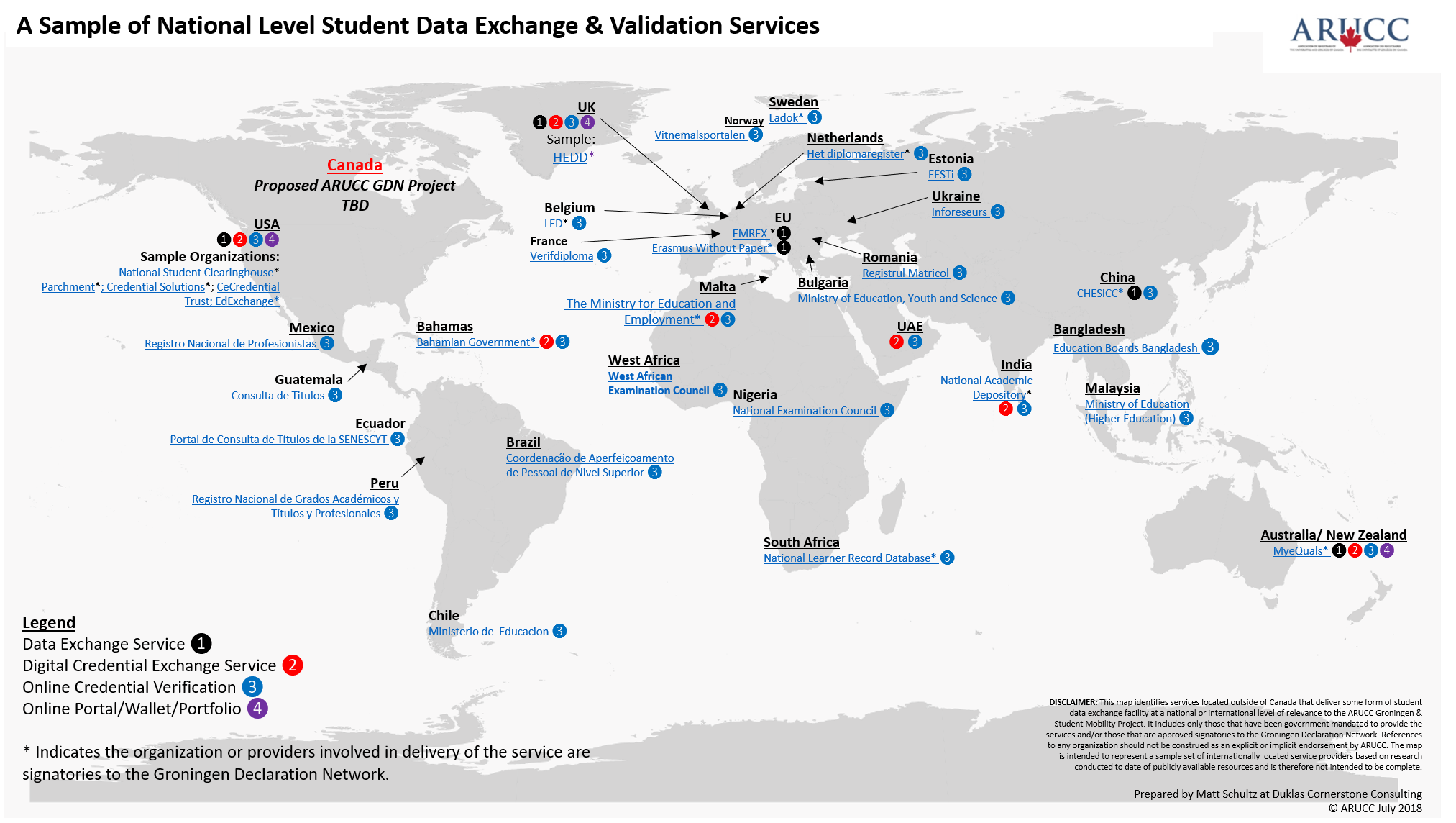 Creating connections with trusted providers in other countries will enhance and expedite scalable admissions and transfer assessment for international students and support expansion of study abroad.
Labour mobility and workforce preparedness
Supporting transition to work by creating the capacity for learners to access and curate their own official academic documents removes barriers to access regulatory professions and the workplace. The OECD stresses that "[a] rapidly changing world of work affected by globalization, digital transformation and demographic changes makes lifelong learning even more essential…."[11] Advancing digitization and data portability enables labour mobility and lifelong learning and supports students as they move forward with their careers.

Transfer students tend to be older than 24[12] as they work to reconsider their life paths and learning trajectories. As the labour market evolves, the need for retraining becomes imperative to maintain a viable work force.
Removing credential exchange barriers and enhancing scalable service represent important imperatives for improving labour mobility and access, particularly for older and Indigenous students who need to reach beyond their regions for educational opportunities.

The National Data Exchange Project will close Gaps
ARUCC research indicates significant gaps exist in electronic data exchange capacity across the country. The community says we must do more to support mobile learners, enhance institutional efficiencies, and address document fraud.
Most electronic exchange of academic documents to support access to Canadian post-secondary institutions is limited to specific provinces. Where it does exist, it focuses on the front end of the application process and intra-provincial transcript exchange to support admissions.
Only a select few application centres and institutions engage to a limited extent in inter-provincial electronic exchange. An even smaller subset maintains established connections with trusted international organizations.
Many institutions rely on manual effort to support students moving between institutions and beyond.
Significant gaps exist to support internationally educated students coming to study in Canada. For example, there are limited connections to trusted credential repositories outside of Canada to support efficient and timely exchange of students' academic documents. As a result, greater burdens and inefficient processes are placed on both students and Canadian higher education institutions.
Academic document and identity fraud are growing.[13]

The risks and implications include erosion of the Canadian high education brand, lost enrolments and revenue, and degradation of student service.

Growing service volumes across all fronts are challenging Canadian post-secondary institutions and negatively impacting students, resulting in delays, inefficiencies, and frustrations.

47% increase in international study permits from 2015 to 2018 (Immigration, Refugees and Citizenship Canada)
11% increase in graduating students from 2012 to 2016 (Statistics Canada)
Increasing demands for official student status confirmations – sample: 37% increase in RESP related requests since the program's inception (Employment and Social Development Canada)
The higher education community needs to work together with supporting organizations and governments to close these gaps to support the mobile learners of today and tomorrow.
An Overview of the Gaps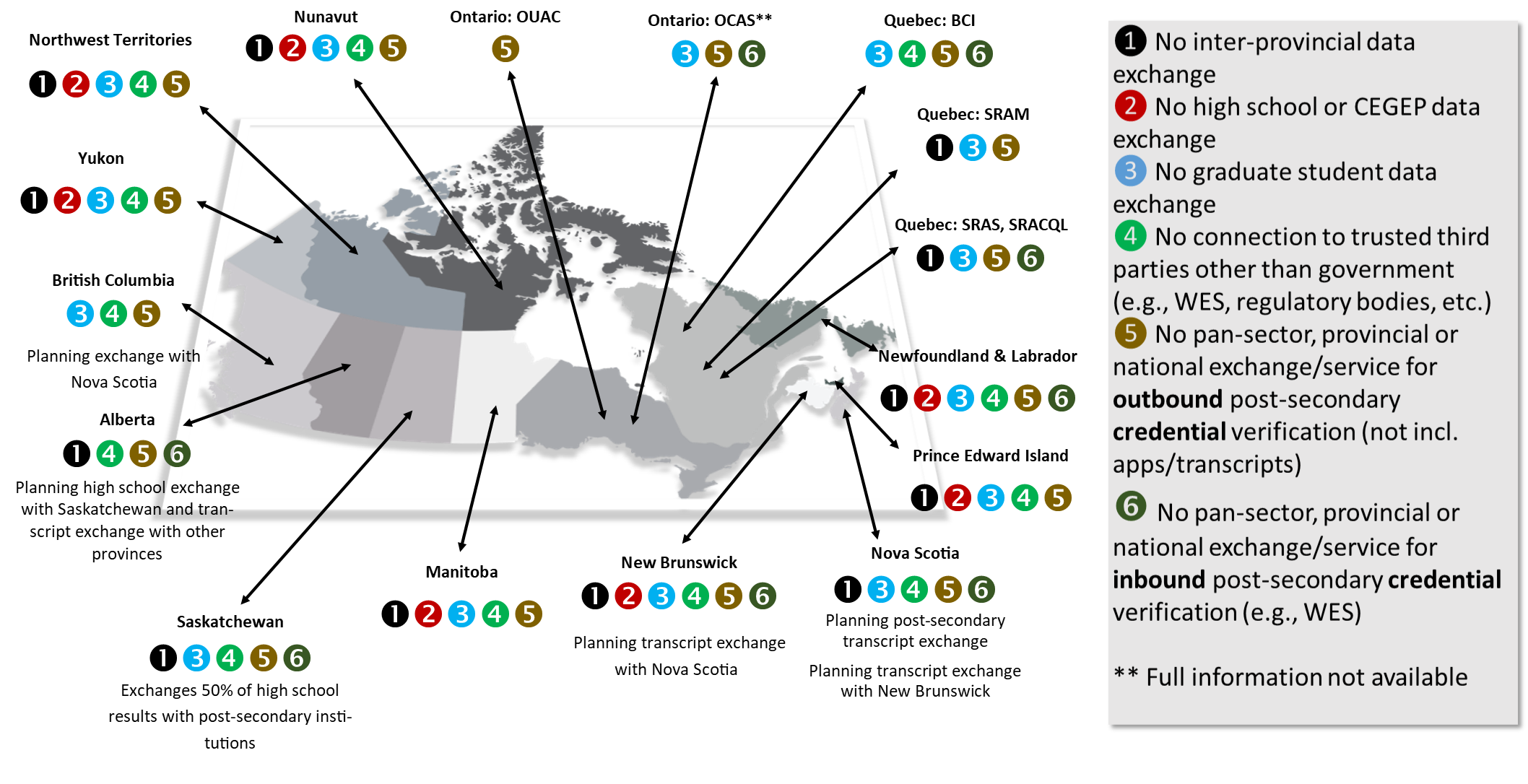 It is in the interest of students, institutions, government, and supporting organizations to enhance trusted connections for the exchange of official academic documents. Benefits include support for learner mobility, greater efficiencies for students, institutions, and supporting organizations, and potential cost savings.
Working in partnership to support the mobile learners of today and tomorrow.
References
[1] Social Mobility, Wikipedia, https://en.wikipedia.org/wiki/Social_mobility
[2] OECD (2018), p 23, A Broken Social Elevator? How to Promote Social Mobility, OECD Publishing, Paris.
http://dx.doi.org/10.1787/9789264301085-en
[3] Universities Canada (January 2016), Universities and colleges: teaming up for student success. Retrieved from https://www.univcan.ca/media-room/media-releases/universities-and-colleges-teaming-up-for-student-success/
[4] Universities Canada (n.d.), Facts and Stats. Retrieved from https://www.univcan.ca/universities/facts-and-stats/
[5] Council of Ministers of Education, Canada. 2017-21. CMEC Strategic Plan 2017-21. Retrieved from https://www.cmec.ca/docs/SPlan_CMEC_EN.pdf
[6] Lisbon Recognition Convention. 1999-2019. The Lisbon Recognition Convention. Retrieved from https://www.cicic.ca/1398/an_overview_of_the_lisbon_recognition_convention.canada
[7] Universities Canada. (n.d.). Study Abroad. Retrieved from https://www.univcan.ca/priorities/study-abroad/ and Colleges and Institutes Canada. (n.d.). Student Mobility. Retrieved from https://www.collegesinstitutes.ca/policyfocus/transferability/
[8] Report of the Study Group on Global Education (2017), Global Education for Canadians – Equipping Young Canadians to Succeed at Home & Abroad, http://goglobalcanada.ca
[9] Source for study permit data: Immigration, Refugees and Citizenship Canada. Retrieved from https://open.canada.ca/data/en/dataset/90115b00-f9b8-49e8-afa3-b4cff8facaee
[10] Retrieved on February 18, 2019 from https://thepienews.com/news/another-double-digit-growth-for-canada-with-india-overtaking-china-ircc/
[11] OECD (2018), p 55, A Broken Social Elevator? How to Promote Social Mobility, OECD Publishing, Paris.
http://dx.doi.org/10.1787/9789264301085-en
[12] Heath, N. (2012). Student Mobility in Canada. Pan-Canadian Consortium on Admissions and Transfer. Retrieved from https://pccatweb.org/media/1244/pccat_mainreport_final-en-full-document-with-logos.pdf
[13] WENR: https://wenr.wes.org/2017/12/academic-fraud-corruption-and-implications-for-credential-assessment; Canadian Bankers Association: https://cba.ca/embracingdigital-id-in-canada